Earn your academic credits at the Piccola Università Italiana! Study abroad in Italy and have fun!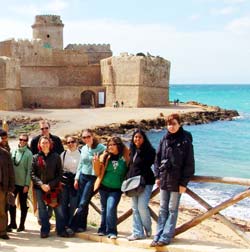 Academic Spring Program:
Minnesota State University – Mankato 18 semester credits
Culture and language study in Southern Italy, Tropea at the Piccola Università Italiana
Earn 18 university credits studying 7 weeks on campus (or possibly online by special arrangement) at the Minnesota State University- Mankato and then enjoy 8 weeks learning about the Italian culture and Italian language in Tropea, Italy. Uncover cultural differences when you visit Calabria, Campania, and Sicily on class excursions. Trip dates are March 2, 2008 – April 27, 2008. Please contact us for the study abroad program 2009!

Check out the STUDY ABROAD BLOG
" MNSU studying Italian language + culture in Tropea"!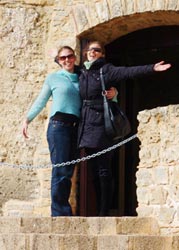 Academic Summer Program:
Centro Fray Luis de Leon 6-10 credits
2 weeks of "immersion" in Italian language and culture. Earn 6-10 university credits while absorbing the Italian culture through being there and enjoy southern italian "Dolce Vita". Included in the program are excursions to Calabria, Campania, and Sicily. The students will also spend 3 days in Rome. Trip dates for this study abroad program are June 12 – 28, 2009. Please download the Summer application file here.