You can choose between a studio flat or a single or double room (the latter only for people who arrive together) in a larger apartment.
The typical studio flat consists of a large room with a corner for cooking and washing, while the larger apartments have two or three rooms plus a kitchen and one or two bathrooms. The majority of the apartments are situated in the centre of Tropea and have a terrace or balcony with a view of the sea or of the hills behind the town.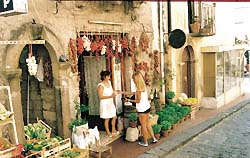 The school and the local market place are only a few minutes walk away. We will provide bed linen and towels. To ensure that our guests enjoy excellent service, towels and bed linens are made available in each apartment; in addition, once a week the towels and linens are changed and the apartment is cleaned. These services are included in the price, as are the customary extra costs (light, water and gas).