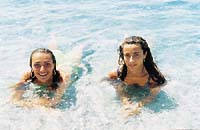 You could also opt to spend your free time swimming in the sea or sun bathing on Tropea's stunning beach, only ten minutes walk from the school. You could even take a boat out to discover the many quiet sandy inlets not far from the town.

During the week the school will also organise a variety of activities, parties, meals, coastal and inland excursions such as, for example, to the mountain village of Gerace or the Aspromonte National Park.

If you wish, we can hire you a car or a moped for your sight-seeing trips.